Southern Ardèche - 4 days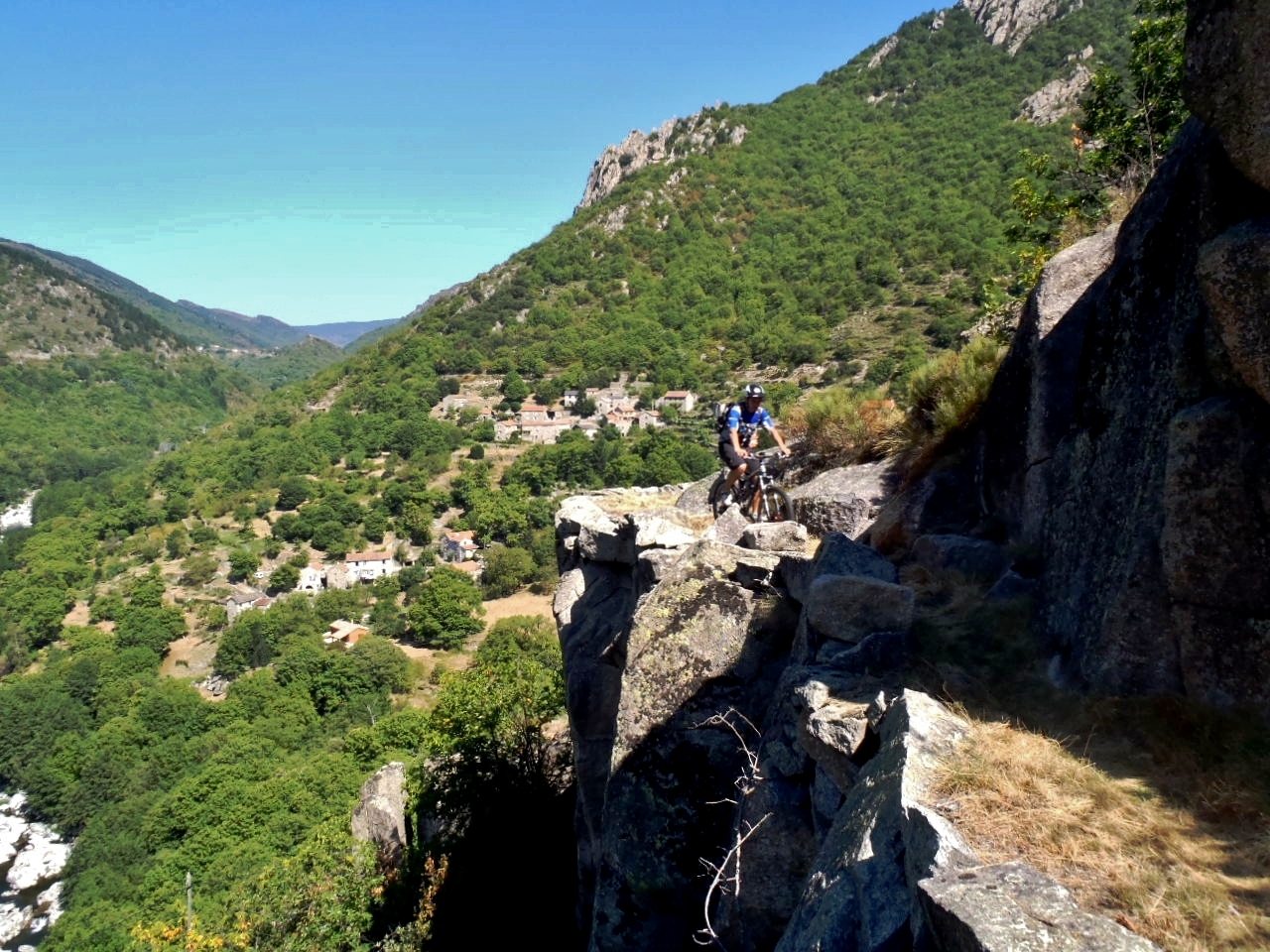 Southern Ardèche - 4 days
The Southern Ardèche by MTB is a ride both starting and finishing on the limestone plateaux of the woodlands of the Bois de Païolive.
As you cross the Gras plateau, you'll catch glimpses of the local area's agricultural past, in the form of an astonishing maze of low stone walls and paths.
The first peaks of the Cévennes are already visible. We hit their shale and granite foothills as early as stage 1. As we pedal by, the pink sandstone hamlets are a stark reminder that the Ardèche Mountains Regional Nature Reserve is well worthy of its Geopark status. The tracks of the imposing Tanargue mountain range come into view. Watch out! You might have to make way for flocks of sheep on the way to their summer pastures around here. As we ascend, we reach the watershed and briefly head off the route taken by the waters flowing down to the Mediterranean, before quickly getting back on track to dive down to the plain.
Speeding along high above the valley floor, we ride along ridgetops, enjoying clear views over the stunning landscapes stretching out far below us. Dropping down the cliffs of the Vivarais region on age-old paths, moorlands make way for chestnut groves and soon even olives. We reach the Gras plateau where the smells of the forest and the southern heathlands fill our nostrils.
We enter the Ardèche River Gorges nature reserve for a sumptuous finale, culminating in the world-famous rock arch shaped by the forces of nature: the Pont d'Arc.
Route and terrain

:
stages from 35 to 50km including 1,200m of elevation gain on tracks and paths featuring technical sections

Duration

:
4 days / 3 nights

Ride

:
supported multi-day loop ride

Group

:
regular ride (min. 5 participants)

Rate from

:
490 €

Rate including

:
support from an MTB instructor, luggage transfer, full-board accommodation from dinner on day 1 to breakfast on day 4, plus tourist taxes.
Booking